You've might have seen him in Love, Simon, or as a guest star in its spin-off sequel Love, Victor that premiered on Hulu last week.
The episode (S1E8: "Boys' trip") that features actor, dancer, and musician Keiynan Lonsdale (along with Love, Simon star Nick Robinson, too) is one of the best examples of queer joy and community in recent memory. He shines in it — an uncomplicated snapshot of what growing up, finding kinship with a queer family, and living an unabashedly authentic life can look like.
Keiynan's Bram introduces Victor to the fact that there is no right way to be. That queer identity cuts across class, religion, gender and race, and that chosen family can look like any mix of those things.
It's a touching, heartening display of possibility. Keiynan's music is much the same.
I first came across Keiynan's work via his 2018 track, Kiss the Boy. It's a bright, upbeat pop take inspired both by his time filming Love, Simon and (at least in concept) the classic Little Mermaid song Kiss the Girl.
I adored his song the first time I heard it – the catchy chorus planting itself in my mind instantaneously – and it quickly became one of my go-to tracks when I needed something joyful that I could bop along to.
Keiynan's debut full-length album, Rainbow Boy, was released just a few weeks ago — written and produced with friend and collaborator Louis Futon (catch Keiynan on Futon's Royal Blood), and released independently. It carries forward the same buoyancy and captivating, modern pop inflections from Kiss the Boy, and adds playful introspection and layered sonic complexity with touches of funk, R&B and even a bit of swing.
It's beautiful, fun, provocative, and well-worth playing on repeat under a sunny sky.
Keiynan himself is a great example of the transformative power of representation and queer art. He recounted in an interview how his experience making Love, Simon helped him publicly come out, and it was only a short while later that he released Kiss the Boy – his first queer-themed track – after a moment watching the teaser for the movie inspired him to write it.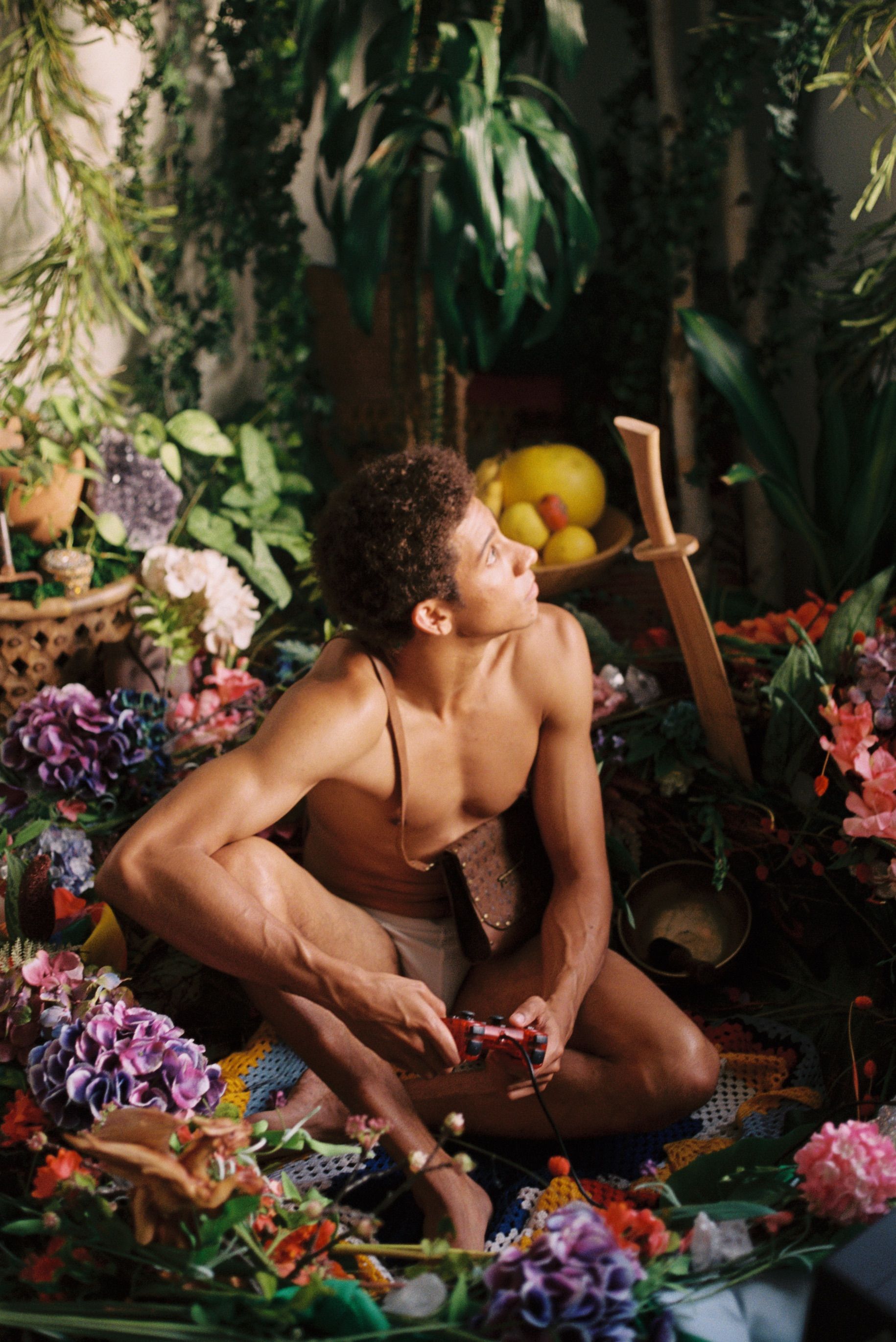 Fast forward to Rainbow Boy two years later, and Keiynan has thoroughly come into his "Queer AF and Black AF" power – his queerness and Blackness take center stage in loud, proud proclamations.
The album opens with We are the Children – a dreamy imagining of the possibility of true freedom for kids like Keiynan. He sings:
Rise my child
To the garden of love and care
Where you ain't gotta be
Frightened of anything
You can just be
Free
Oh, wouldn't that be neat?
And the beautiful, tragic thing is that he might be speaking to queer kids, or Black kids, or queer Black kids – but regardless he speaks as someone that survives and thrives at the intersection of these identities, and knows that his simple existence as a possibility model (to borrow Laverne Cox's suggestion) offers others the chance to follow:
Fighting for the truth so I know I'll be alright
And if I'ma play a hero I'ma show them to the light
I gotta run and tell these kids that we'll be fine
And when we get to the second track (which also served as the album's second single), Gay Street Fighter, he has a ton of fun on the outro queering everyone and everything in sight:
The truth is
Everybody's just a little bit Gay
Yo mother (she Gay)
Yo brother (so Gay)
All your soldiers baby (they fuckin' Gay)
Yeah they all just a little bit Gay
Yo teachers (so Gay)
And yo doctors (so fuckin Gay)
If you look in the mirror, baby (you Gay too, bitch)
See we all just a little bit Gay
And even God (she Gay)
Even God's just a little bit Gay (he Gay)
So Gay
And even God (they Gay)
Even God's just a little bit Gay (so fuckin Gay)
(He did not just say that)
Yeah you Gay too, bitch
Magic Mickey is a sultry bedroom pop record that rolls into a brief confrontational rap break, and the entire song feels like a sexual awakening in Disney after dark.
The fluidity of genre and composition continues as Magic Mickey flows directly into Destiny Road, a dreamy pastoral rumination that again breaks half-way through into an electronic pop-rap ballad.
Each of Rainbow Boy's tracks feels perfectly crafted to carry and transform the tone of the song that precedes it. It feels, in a way, like traversing a hazy rainbow with each color bleeding into the next before a stark shift in character. And each band paints an aspect of Keiynan's multifaceted identity, musically composing the titular rainbow boy.
Ancient One is an upbeat African-pride anthem featuring fellow Aussies Project Peters, composed of Nigerian-born brothers Darlington and Joseph Peters. It's a fun, atmospheric track that feels like it could easily set the stage for a modern re-imagining of The Lion King, with a pre-chorus that celebrates reconnection with African ancestry and majesty:
Don't you know that you're a lion
Don't you know you're from the kingdom of the stars
Been this way before the dinosaurs
See yes it's all in everyone
Such a pretty young flower
Open up and let your petals face the sun
Once you blossom you can share the love
Because you are the ancient one
Rhythm & Music launches a 80's-esque pop-rock dance vibe that your body just can't resist dancing to. It's one of those songs that makes you want to jump up onto your furniture and stomp and shake – the kind that has you putting socks on just so you can slide across the floor in time with the beat.
White Noise is an explicitly political call-to-action wrapped in a modern doo-wop invention. The opening lines are particularly charged, skewering both a racist trope and the cultural appropriation carried out by the same population:
They call us monkeys
When they be monkeys too
Ain't no denying
Cause what they see is what they do
The finest track comes next – Rainbow Dragon, the album's first single and one of my most repeated songs to-date.
It's another perfect demonstration of Keiynan's ability to merge and morph genres with interesting breaks and transitions that keep tracks fresh even after your ten-thousandth listen. The chorus is catchy and fun, and just aggressive enough to really belt out in the shower after a long day.
Once you get to Play, Keiynan has circled back to the the theme of his intro – that there is a paradise here on Earth for kids like Keiynan, if they're able to let themselves embrace it by embracing each other. It's sweet and sincere, while rolling in and out of a bouncy dance beat. By the end, the layers of instrumentation slowly drop away to focus on Keiynan's bright, joyful sing-talking voice:
And all of this time I've been so scared of getting older
But I'll always be this dumb kid, I know
And I think it's beautiful
The things that we'll never know
Just watch and see
The stories unfold
It's exactly the song that I think Keiynan's Bram might have shared with Victor in Love, Victor after they connect in New York. It recognizes the legitimacy of the fear and isolation we often impose on ourselves when first grappling with queer identities – while gently parting the curtain to show hope, prosperity, and love on the other side of acceptance.
Rainbow Boy is a work of art. It effortlessly dances across genres, often multiple times within the same song. It embodies joy that is both Black and queer.
And it all sounds good as hell.
So I hope you'll give it a listen.
😊